Over a billion reasons to get involved​

Reduce manual categorisation​​
Rescue more victims through shared intelligence​
Spot trends and patterns revealing organised crime​
Be part of the global community helping to remove CSAM online​
Instant access to victim identification and categorisation intelligence​
No development, maintenance or support fees​
The project is contribution-led, free to Semantics 21 customers, with all maintenance absorbed by Semantics 21, as our way of giving back to the heroes we work with across the world.​
Investigators gain access to unique file hashes​, organisation and case information, device models and serials, GPS data, investigator notes and tags and more. The amount and type of data shared is optional to each individual organisation.
1. Member organisation exports its S21 intelligence database​
2. The file is encrypted and uploaded to a secure S21 repository​​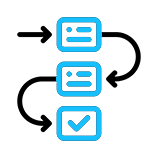 3. All uploaded data is merged into one encrypted master file​
4. The latest S21 Global Alliance Database is issued
Secure and reliable

by

design

We continue to champion best practice and compliance when it comes to managing the Global Alliance Database.

Intelligence exported is automatically encrypted, and uploaded through an encrypted platform and the master database file always remains encrypted.

All our solutions and services are totally secure and have been developed in line with GDPR and other relevant guidelines. It's part of the reason we're trusted by some of the most data-sensitive sectors, including policing, military, and online technology platforms.
How to access the Global Alliance Database?
Save more victims, process more cases, and protect your team's mental wellbeing.​
Don't let your toolset let you down.
Request a demo or sales information pack​
Please complete the form with valid company or agency information, including a company or agency-issued email address, we will need to confirm your credentials before issuing a free trial licence.